Last week, a Congressional Gold Medal was posthumously presented to Constantino Brumidi (1805-1880) in recognition of his contributions to the nation. He is best known for his fresco work in the Capitol Building in Washington DC. The medal was authorized under Public Law 110-259, enacted on July 1, 2008.
The obverse of the medal includes a portrait of Constantino Brumidi within a decorative border based on his designs. The reverse includes the central portion of Brumidi's masterpiece "The Apotheosis of Washington" which adorns the eye of the Capitol Dome. Inscriptions on the reverse include "Artist of the Capitol" and "2008 Act of Congress". Both the obverse and reverse were designed and sculpted by Don Everhart.
Bronze reproductions of the medal are available for purchase from the United States Mint. The 3-inch medal is priced at $39.95 and the 1.5-inch medal is priced at $6.95.
Some interesting numismatic related asides: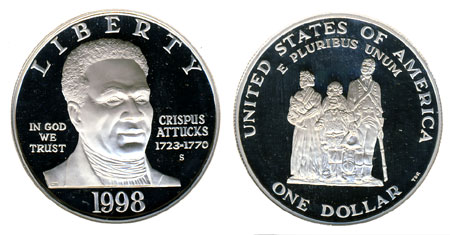 Constatino Brumidi is also known for creating the first tribute to an African American in the Capitol when he placed the figure of Crispus Attucks in the center of his fresco of the Boston Massacre. Crispus Attucks later appeared on the obverse of the 1998 Black Revolutionary War Patriots Silver Dollar.
When the US Mint announced the new reverse design for the Lincoln Cent featuring the Union Shield, it was noted that the shield device had been featured throughout the halls of the U.S. Capitol Building within frescoes by Constantino Brumidi.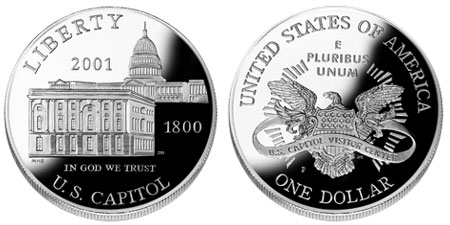 Public Law 110-259 directs the Congressional Gold Medal to be displayed in the Capitol Visitor Center as part of an exhibit honoring Constantino Brumidi. A 2001 commemorative coin program including $5 gold coins, silver dollars, and clad half dollars was authorized for the then-proposed Capitol Visitor Center.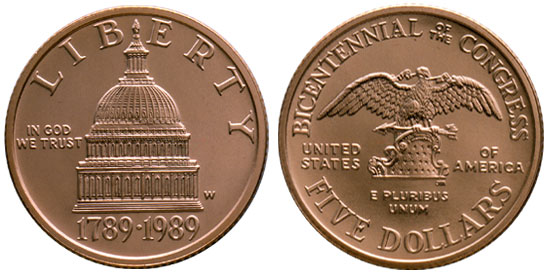 The Capitol Building itself has been featured prominently on several US coins, including the coins issued within separate commemorative programs for the bicentennial of Congress  in 1989 and bicentennial of the building  in 1994. The Capitol building also appears in the background of the Augustus Saint Gaudens' obverse design for the gold double eagle, later used for the American Gold Eagle.